Auto-Create Users From Specific Domain With Google Workplace
Auto-Create Users From Specific Domain With Google Workplace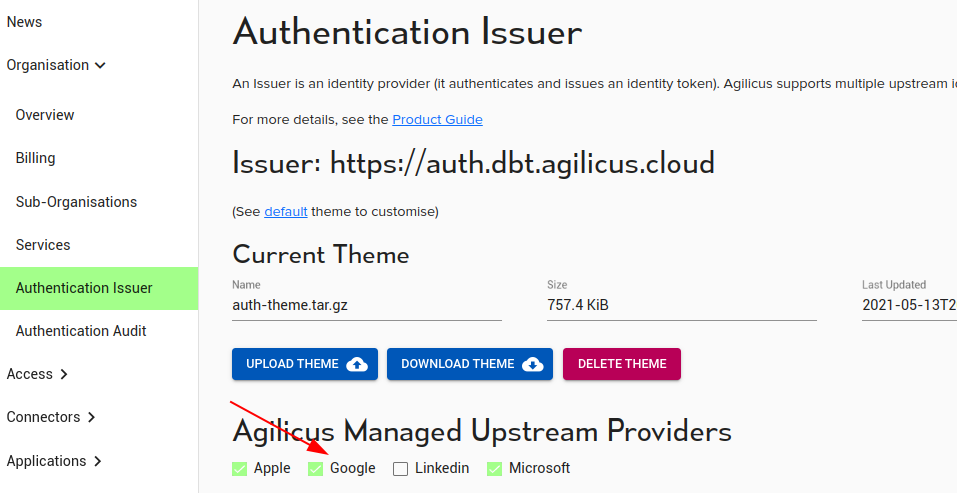 The Agilicus Managed Upstream Providers option of 'Google' allows users to sign in with GMail and Google Workplace (G Suite) with zero-configuration. In some circumstances (for example, to enable the use of auto-create locked to a specific domain) you may wish to create your own Google Identity Provider setup.
To do so, we will use the Google Console, create a Credential, OAUth2, Web application, and from there obtain a client-id and client-secret.
We will then configure the list of acceptable domains which may use it, and cross-configure this information into the Agilicus admin portal.
There is no general requirement to create your own Credentials in Google: do so if you wish finer-grained control by e.g. restricting source domain, or if you have specific audit requirements.
For more information see Google's "Getting Started With Authentication".
Enter a name (your users' will see this, so e.g. "Agilicus Google Workplace"), the Issuer url (https://accounts.google.com), the Client ID (from above) and the Secret (from above).
You may wish to enable auto-create on this Identity Provider, in which case authenticated users will be automatically provisioned.

At this stage, you may wish to enable "Authorized Domains" in your Google Workplace settings.
Users may now sign in to the system via this Identity Provider.
---