Keep Up with Digital Innovation by Securing Operational Technology
Protecting Critical Infrastructure
Don't wait to secure operational technology resources as connectivity to IT infrastructure only accelerates and air-gapping these systems becomes less and less practical.
Read the Case Study
No longer able to air-gap operational technology, a water treatment facility operated by a Canadian municipality turned to the Agilicus AnyX platform to protect its critical infrastructure resources. Read the case study and learn how Agilicus helps protect operational technology through user, resource segmentation to enable secure access for authorised users.
The Urgent Need for Improved Cybersecurity Across Operational Technology Resources
From end-user operators and technicians seeking new efficiencies in their jobs, to the inevitable bridging of Information Technology and Operational Technology to achieve business objectives, there is profound urgency for new cybersecurity measures that protect critical resources.
People by their very nature seek out opportunities for efficiency throughout their daily lives and at work. This innate instinct could actually be the source of compromise and is becoming increasingly difficult to protect against. From the way someone manages access credentials, to introducing peripheral devices, your supposed air-gapped resources may in fact connect to your IT infrastructure, cloud technology, and become accessible through the public internet.
In addition to the risk your end-users are creating, the intersection of operational technology and information technology is deepening to meet business needs. The business value of linking resources is undeniable as it leads to increased visibility, application data, operational efficiency, and management of those resources. That is making it difficult for businesses to segregate operational technology from information architecture.
The opportunity for business synergy between resources is adding pressure to their eventual bridging. That means operational technology resources can no longer be simply air-gapped for security.
How Operational Technology Systems Are Getting Hacked and Compromised
Remotely accessible industrial control systems and unrestricted outbound network access.
Insecure access to operational networks and lack of segmentation of network resources.
Compromised credentials, poor security practices, peripherals, no security updates.
Resource lifecycle and a lack of vulnerability research performed. No library of Common Vulnerability Exploits for industrial control systems.
Lack of encryption and multi-factor authentication to connect to operational resources.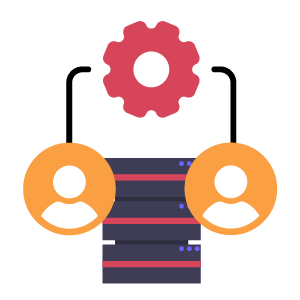 Third-party access from partners, vendors, contractors, and other non-employees.
There has been a significant increase in cyber-attacks and ransomware targeting operational technology like IIoT, ICS, SCADA systems, and other critical infrastructure resources. Malicious actors have learned that disrupting these technology assets could have serious consequences for organisations and the broader public. As a result, governments around the world are sounding the alarm on securing critical infrastructure resources and the operational technology powering them.
Without embracing the business value and eventuality of interconnected information technology and operational technology infrastructure you could be holding your business back while your teams grapple with reactive cyber risk management. Take a proactive approach to securing critical operational systems and get ahead of the inevitable unification of technology infrastructure and networks.
Learn how Agilicus is helping a municipality in Ontario, Canada secure their water treatment facilities while delivering a seamless end-user experience to authorised technicians and non-employees.
Segment Users and Resources to Secure Operational Technology
Historically, operational technology (IIoT, Industrial Control Systems, SCADA, other Critical Infrastructure resources) hasn't needed the degree of security policies and protocols that information technology systems have. However, these systems are coming together as business units realize the benefit of data, connectivity, and automation.

Zero Trust is a modern, perimeterless approach to cybersecurity, where instead of gaining access to network resources via a VPN, users are paired only with the resources they need. In order to gain access to those resources, a user must prove their identity and authenticate. This "never trust" and "always verify" approach to cybersecurity helps organisations segment users and resources to enhance security of critical systems and operational technology without inhibiting end-user access.
See how Agilicus uses Zero Trust Network Access to protect operational technology while equipping your technicians with secure access. We'll help you keep threat actors out while providing a frictionless end-user experience to ensure your users get only the access they need.
Learn How Agilicus Secures Operational Technology Resources and Critical Infrastructure
Through Agilicus, organisations of all sizes can harden their cyber defences while enabling secure remote access for any user, from any device. This is done by integrating with your native active directory and that of partner organisations so that you can deliver secure, least privilege access to critical infrastructure and operational technology such as SCADA and industrial control systems.
Federate identity and integrate with native active directories to institute single sign-on across access mechanisms.
Identity Aware Web Application Firewall to secure web applications, interfaces, and prevent peripheral devices from connecting to resources.
Enforce multi-factor authentication requirements across resources that previously were unable to be protected with a second factor.
Block all inbound and outbound traffic to host machines unless authorised through the Agilicus AnyX agent.
Enact strict, least privilege and role-based access controls to authorise user access to the specified operational technology resources.
Granular, per user, per application auditing of user access for better security analysis – when they accessed, how long they accessed, and what they did with that access.
Network Diagram:
User, Resource Segmentation and Secure
Access with Agilicus
The network diagram is a visualization of how the access workflow changes when operational technology resources are secured through Agilicus.