Simple, Secure Remote Access
Client-less Zero Trust Architecture
Secure remote access to shared resources for internal and third party users with Agilicus AnyX.

Empower your workforce and enhance security across your organisation – whether industrial environments or corporate networks.
✓ No New Hardware
✓ No Network Changes
Secure Remote Access through Agilicus
Agilicus AnyX is a modern cybersecurity and access platform that is perfect for IT and security administration, operational technology, and industrial networks. Standardise access and security across your ecosystem of resources and applications to eliminate unnecessary hardware and software, reduce costs, and simplify access for your users.
Case Study: Secure Remote Access for Vendors and Partners
Agilicus AnyX is being used today to enable secure remote access to operational technology and industrial control system resources across North America.
Learn how a water treatment facility has been able to deliver secure, least privilege, auditable access for all internal users, partner organisations, and their systems integrator.
Just in Time Access for Remote Maintenance with Agilicus
No matter where your users, systems, or facilities are located, Agilicus AnyX enables secure, VPN-less access to your critical assets with precise control over permissions. Equip your employees, vendors, and third party users with an intuitive experience that delivers just-in-time, minimum connectivity to shared resources whether from your corporate or industrial network. 
Agilicus AnyX ensures you can segment down to a device level making remote access convenient, safe, and secure.
Centralised User Management and Administration
Keep critical assets and infrastructure secure with a single administrator portal that centralises user management. Quickly add or revoke access and privileges with a users existing credential.
Easily integrate with native identity providers to extend secure access to internal and external users with Agilicus AnyX. That means no new user names, passwords or active directory licences.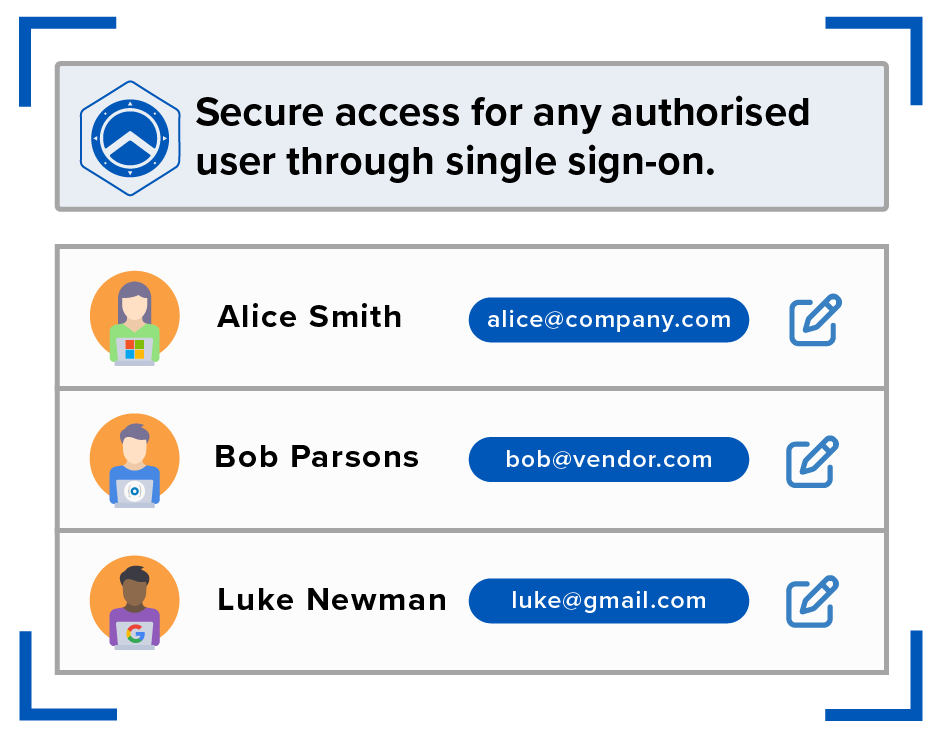 Permissions Management and Role-Based Access Controls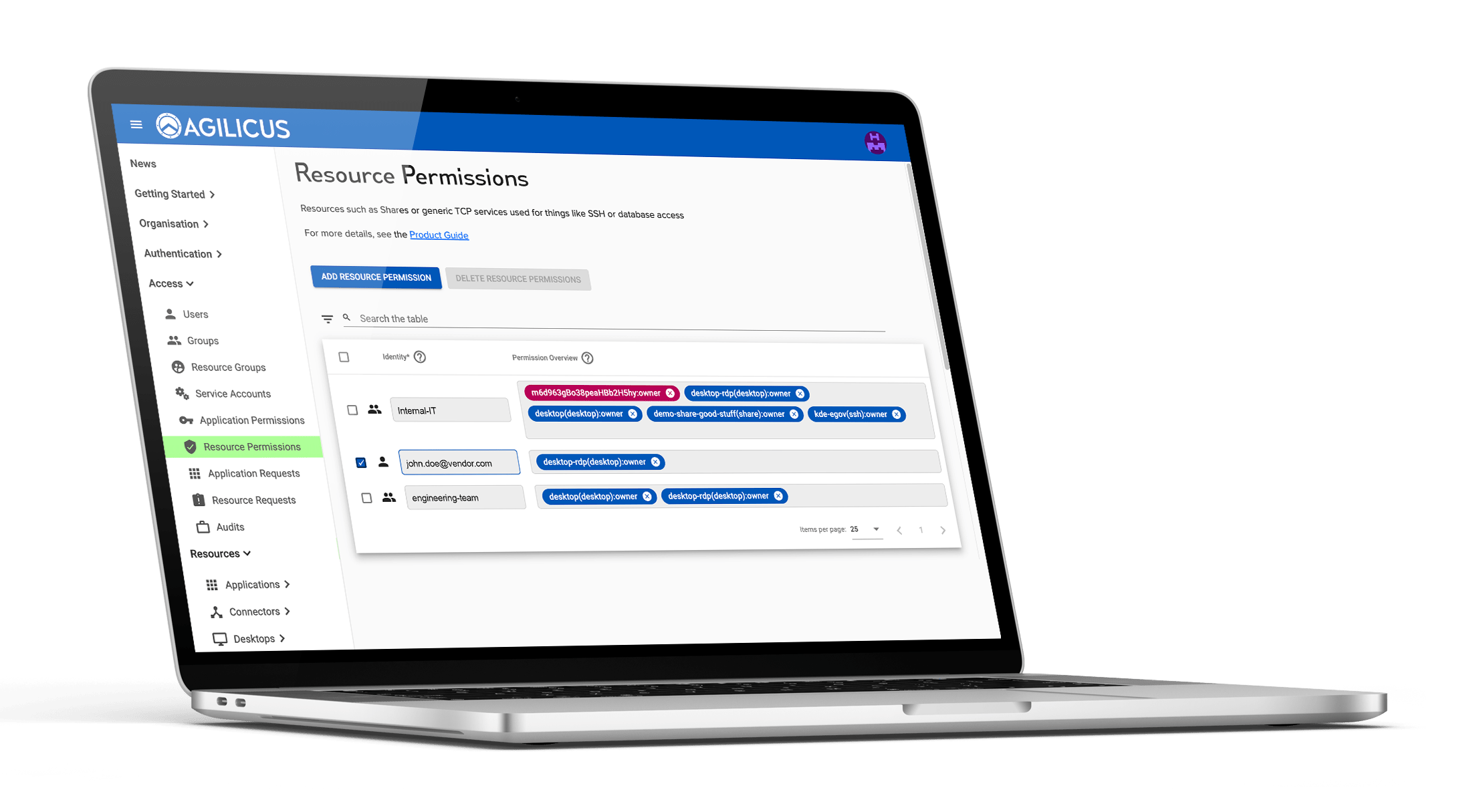 Minimise cyber risk with precise control over user permissions (read, write, admin). Built-in Role-Based Access Controls gives you the granular control you need to define access privileges and permissions across assets, geographies, and the various levels of users.
Agilicus AnyX is client-less and doesn't require additional hardware or network changes. Resources are secured with an outbound only connection that prevents un-authenticated users from gaining access.
Enhanced Audit Logging for Detailed Security Analysis
Conventional remote access tools lack the auditing capabilities necessary for monitoring remote user activity, especially in the event of an incident or breach. Agilicus AnyX delivers complete visibility of user and resource activity through detailed audit logs.
Equip your security team with the information they need to perform comprehensive analysis, including timestamps and a record of all get and post requests made from a given resource. Enhanced audit logging through Agilicus AnyX means organisations can confidently approach access, monitoring, and response.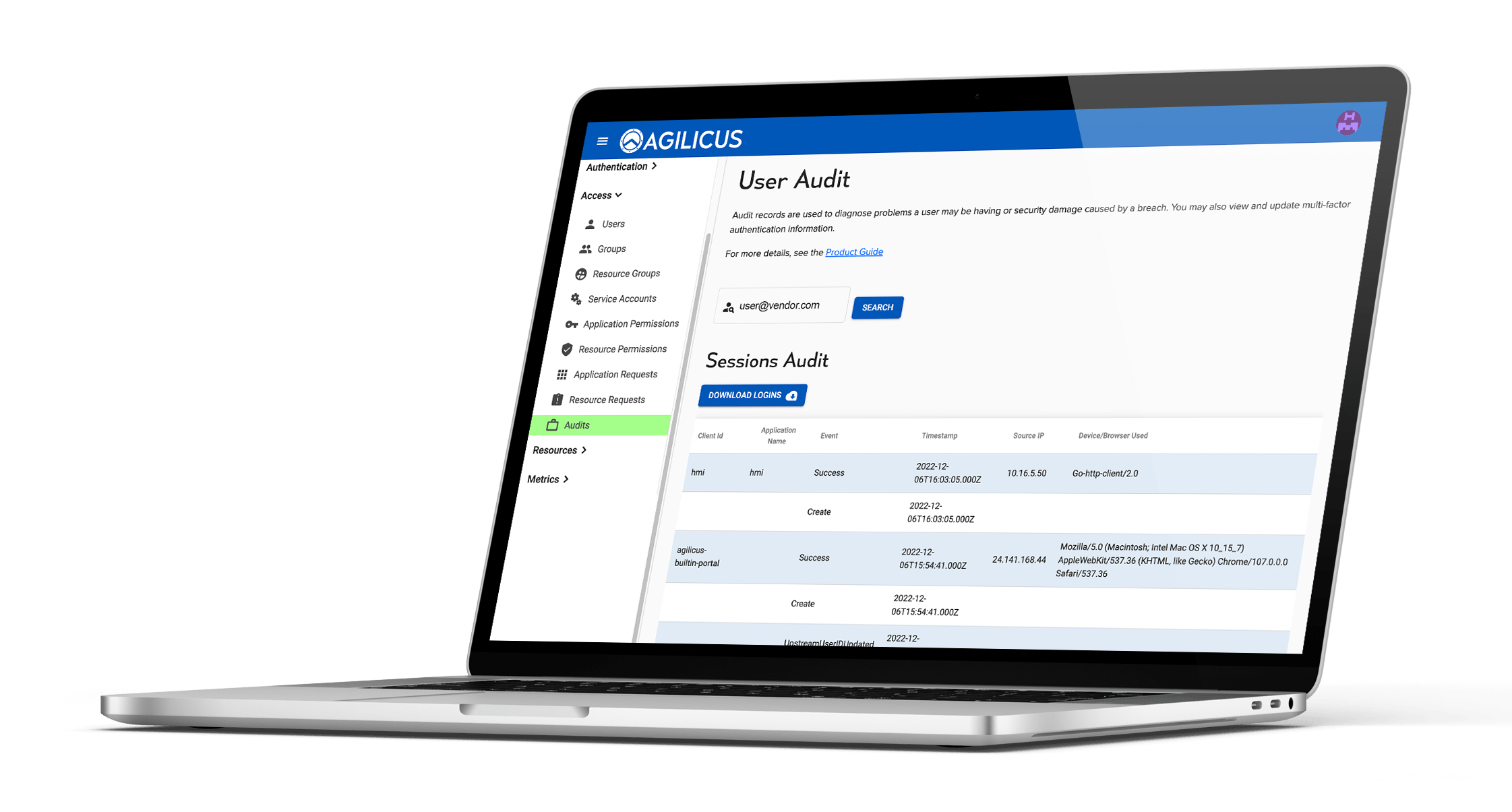 Secure access to applications, desktops, shares, and other corporate resources and services.
Agilicus AnyX is an easy to deploy, all-in-one Zero Trust Network Access platform that allows organisations to improve security and equip employees with frictionless access, simply and economically. That means organisations can adopt cloud-native security while authorised users can securely connect to applications, desktops, shares, and other corporate resources and services.

A secure alternative to perimeter-based network access, get a clear view of who is doing what, when, and for how long ensuring your critical systems are accessible to only the right people without being visible on the public internet.