Zero-Trust Vendor Privileged Access Management
ANY USER
Reduce risk while increasing productivity with Vendor Privileged Access Management (VPAM). Centrally manage privileges and access for third party vendors and authorised non-employees.
Control the who on a person basis, not a company basis.
Control multi-factor authentication without incremental cost or complexity.
Legacy industrial equipment, routers, control systems, building management systems? No problem.
Inherited Cyber Risk from Your Vendors and Third Party Service Providers
Business strategy often leads organisations to seek out and adopt the services of third party vendors. Unfortunately, vendors also happen to be a common target for cyber criminals. When you trust your business to a third party, you may be getting significant value, but you are also inheriting their cyber risk.
You can't simply drop vendors and third parties. Their services are vital to your business. Instead, Vendor Privileged Access Management can put your organisation in control and ensure your teams have complete visibility of who is accessing your organisation, what they are doing, and when.
Secure your organisation against third party vendor risk and bolster your cyber posture with Vendor Privileged Access Management.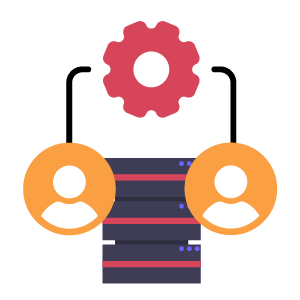 Security researchers and experts estimate that 50% of all cyber breaches are due to third party vendors.
What is Vendor Privileged Access Management?
Vendors often need access to sensitive systems that they do not own but are critical for performing services and support to an organisation. Vendor Privileged Access Management (VPAM) ensures organisations have complete control and visibility over vendor access and activity without disrupting business.
Control per person, not per company.
Control on a per endpoint basis, not "the VPN is there to use"
Add your policies like multi-factor authentication or geographic location.
Have an audit trail of who did accessed what, when, from where.
Read the Case Study
Learn how Agilicus AnyX is being used to enable third party access and reduce cyber risk with Vendor Privileged Access Management.
Learn how Agilicus AnyX is being used today to establish a secure outbound only connection from the computer systems a water treatment facility to enable least privilege access for third parties and vendor to perform support and maintenance of critical systems.
Vendor Access via Agilicus AnyX
The Right Level of Access for the Right Users at the Right Time
Granular and fine-grained authorisation puts your organisation in control of who is accessing your resources so that you can protect your business. Third party vendors gain access to your organisation from behind the firewall. The right approach to vendor access and privilege management can not only protect your organisation from inherited risk, it can also streamline how your third party vendors support your organisation.
Read the Case Study
Secure your organisation with Vendor Privileged Access Management and mitigate the cyber risk your third-party service providers pose to your organisation. Get in touch with our team today to learn more or to book a demo.