Agilicus Launcher (Desktop)
Agilicus Launcher Desktop Configuration
The Agilicus Launcher provides a means of interacting with the user for the purposes of:
launch a desktop application with wrapped networking
mount / update mount on a share
ssh proxy command
This can be particularly useful to:
allow a system-administrator to manage applications and shares remotely via an API
provide multi-factor authentication on a Share
Automatically configure putty, openssh for SSH access
run a desktop application with wrapped networking
When installed in this mode, the Launcher will update itself periodically as it is run. It will initially query the user, and, then, interact again as needed to refresh credentials.
The user installation is very simple: download and run a single file. It will place an entry on the users's menu called 'Refresh' as well as one icon per Launcher. The user can now launch individual applications via an icon. Or, if needed, the user can refresh their shared drives (optionally being forced to re-authenticate with multi-factor authentication) by selecting Refresh.
Profile Install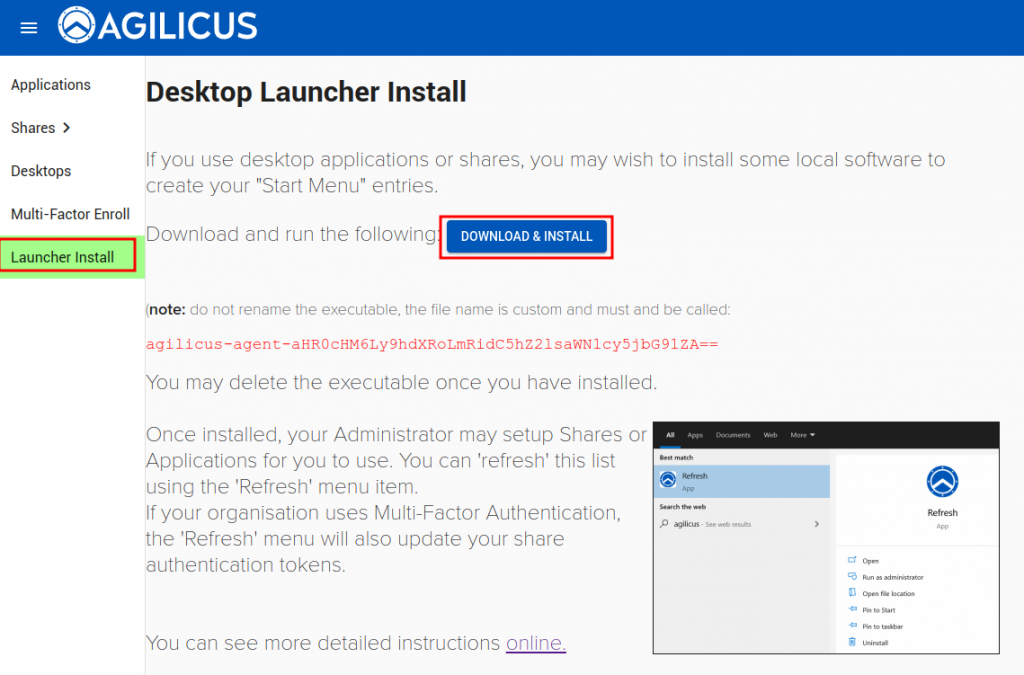 In profile, on the Launcher Install menu, a customised URL will be given. Run this, it will prompt you with a browser as needed.
NOTE: Do Not Rename Executable On Download
The automated install from Profile relies on a custom-generated filename. When you select the Download&Install button, do not rename the file. If you end up with a .html extension (e.g. on MACOS with Safari), remove it.
Manual Install
If you wish to manually install,
Download the Agilicus Launcher (Windows, Linux X86_64, Linux ARM, Linux MIPS Big Endian, Linux MIPS Little Endian, MacOS Darwin (X86-64)) to the Downloads
Run without arguments. Enter your domain (e.g. the CNAME you setup during the sign-up phase)
If a browser pops up, sign-in as normal
At this stage you are done. The user will see a new menu item on their Start Menu (called 'Refresh'), they can run this any time the Administrator has added new applications that have for some reason not synced. They can also run this to resynchronise Shared fileystems, including re-supplying a second-factor authentication challenge.
Once installed, the software will automatically keep itself up to date using The Update Framework.
NOTE: (Windows) WebClient Service
You may need to manually enable the Windows WebClient service if you will use the connector to mount a remote WebDav Share to this machine. Normally this is set to run on demand, but in some environments it may be disabled.