It can be challenging to ensure new staff have taken (and understood) the required training. You may be required to show compliance with this on audit. Which courses are taken annually? Within 30-days of starting? Prior to starting? Tracking workforce training compliance need not be complex.
This challenge can be magnified if you have temporary, non-digitally-connected workers. You may hire temporary staff to work the parks or recreation department. They don't have a desk, an account. How can you easily ensure they have taken your workplace health & safety courses? You need this for e.g. WHMIS compliance.
At Agilicus, we approach growth and training from a different perspective. We believe all necessary tools should be in one location, easily accessible, easily amenable, and reliant. By creating an Online Learning Management System, we offer an individualised organisational experience for learning and compliance. Our goal is to help municipalities get employees back to work by encouraging re-training in key areas of need. You can read about our initiative for municipalities in Free Online Training Platform For Municipal Members.
A frequent and overarching challenge we observed is management of compliance and reports. Far too much time and resources are spent tracking down employees with missed or forgotten compliance courses as well as management of completed certificates.
The learning management system takes compliance one step further by offering a real-time robust spectrum of reporting factors. Courses are clearly categorized and include a status bar showing whether the course is 'yet to be started', 'in progress', or 'completed'. Additional factors like 'course start date', 'completion date', or 'grade achieved' are also available (among others). This supports decisions of whether more time is needed or if a follow-up with an individual is required. 

Is completion or adherence needed within a specific time-frame? No Problem! We bring simplicity to setting due date and other required parameters.
A feature we're especially proud of is an automatic availability of course completion certificates. There's no need to wait for these certificates to be sent to you, they are immediately accessible and printable by an administrator in the reports log, see below: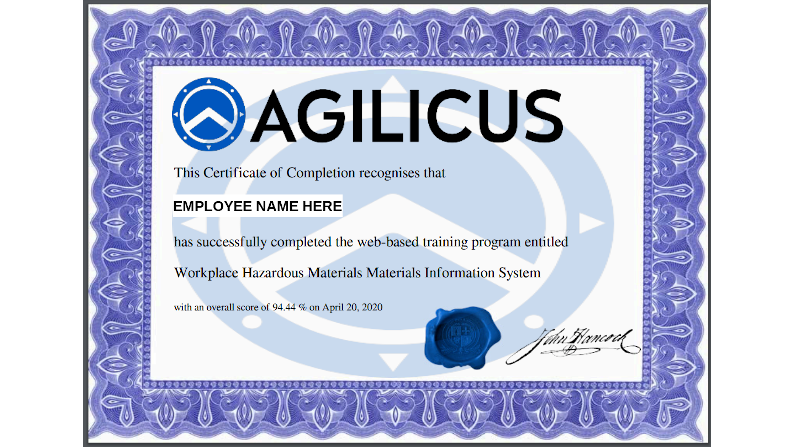 The Agilicus learning management system is a 'one-stop compliance management shop' for any organisation looking to streamline and centralise processes. Achieve simple workforce training compliance, for any user, any device, any location.
Interested in learning more? Don't hesitate to contact our team by email at misa@agilicus.com.