2022-01-25
@
13:00
–
14:00
UTC-5
2021 saw a record breaking year for cybercriminals with the cost of a single breach reaching new heights. So, it's no secret that the rapid pace of change in the modern threat landscape is disrupting organizations around the world. This is also leading to new incoming requirements for cyber insurance and compliance.
Join us online on January 25 at 1:00PM ET to learn how you can quickly and easily deploy a Privileged Access Management platform that can help you secure your SCADA systems and operational technology. During this free online event we'll also go over an action plan on how to get this done quickly and with minimal resources.
Here's a look at what we'll be discussing:
What Privileged Access Management is.
How to introduce Privileged Access Management to your organization.
The benefits of fine-grained Authorization and Role-Based-Access Controls.
Adding Multi-Factor Authentication to Operational Technology (SCADA, Remote Desktops, Etc.).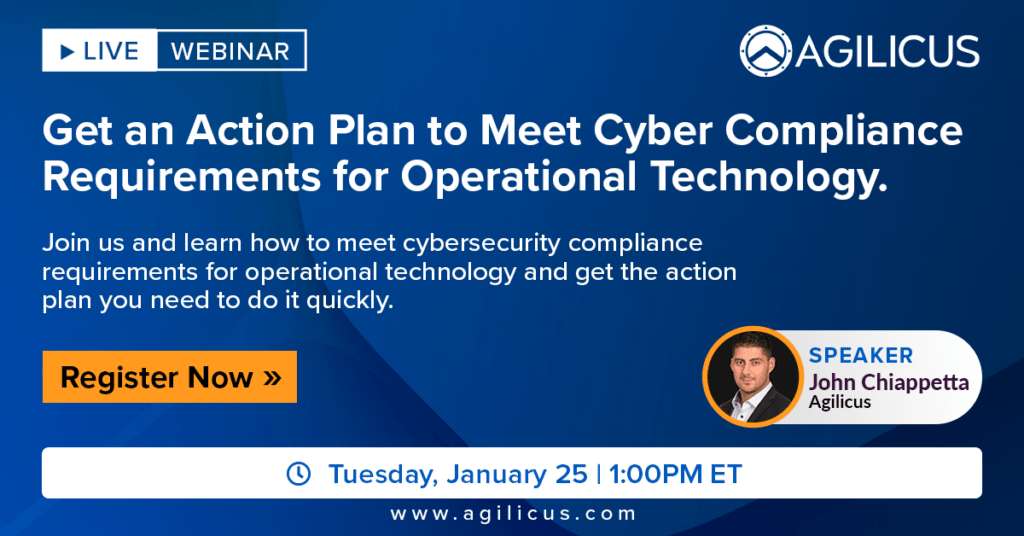 2022 just started, but companies are already facing new cyber insurance and compliance requirements that they are struggling to meet. We're going to chat through these requirements and show you that they are more attainable than you think.
The right Privileged Access Management platform can be self-managed, affordable and scale to your business needs. That means your organization can quickly and easily align cybersecurity with business goals.
Join us live on January 25 at 1:00 PM ET and learn more about meeting cyber insurance and compliance requirements with Agilicus.